As I quickly type this short post, I am giggling until my eyes are watering…
At a time when everything seems up in the air and very inconsistent, it is delightful to find/recall something that has pretty much been a constant in my life. I am the "Big Sisser" in my family which obviously indicates that there is a "Little Sisser". When I remember back to our childhood, she was a constant nemesis as far as my dolls were concerned. I was (still am) VERY particular as to their looks, how they were stored, and MOST OF ALL not wanting Little Sisser to mess up their hair or clothes. As I remember it, she was forever tearing snaps off their dresses because she refused to unfasten them gently, but mostly she wanted to handle them roughly and muss their hair which then gave her an excuse to brush/style their hair. UGH!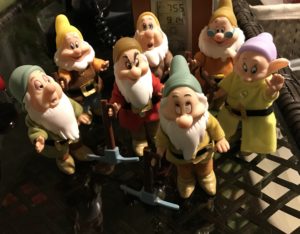 If you follow my Instagram account, you have seen the picture of the Seven Dwarfs (of Snow White fame) that I posted last evening. I have literally searched for years for just the right set of those adorable little men to add to my Snow White dolls collection. They were not something that was easily acquired. I had a definite wish list as to their requirements and was not going to "settle". We won't go into my requirements, but believe me, they were lengthy! FINALLY! I had found just the right set that met all the things I was sure they needed to have (and the price was fair!) They arrived this week and I was like a kid at Christmas. Unpacking each one ever so carefully and straightening their clothes, making sure their shoes were on the right feet and placing their pics and hammers in their little hands. They posed so magnificently! I was thrilled! I couldn't wait to take photos with proper lighting and composition. I wanted to share those seven wonderful, little men now! So….a quick post to IG as I was unpacking them.
The last line of the post was a mini-quote from the song the dwarfs sing in the movie….HI-HO, HI-HO, IT'S OFF TO WORK WE GO….
Feeling quite happy and satisfied with such a fantastic purchase, I turned off the phone and headed for bed. This morning I get up to a post from Little Sisser that says HI-HO! HI-HO! LITTLE SISSER PLAY WITH THEM THO! Somehow even after all these years, that post made me cringe. I could just see her as a child taking off their shoes (and losing one) and turning their heads around backward and other various inappropriate things with my new prize possession. Even though I knew this wasn't real, still it made me wince at just the idea.
So, with that having been said, the reality of this is that I still have a Little Sisser that wants to play with all my favorite toys and now she isn't sneaky about it. She just comes right out and tells me that she would like to make my little dwarfs dance around, possibly scuffle and even change their clothes! Thus, proving that INDEED, THERE ARE some things that remain constant, at least between sisters.
As a child, I tried to put the "good stuff" out of her little grasp. Although it has taken some 50+ years, I was just beginning to trust her handling my dolls, but after her post…DEFINITELY NOT! I love you dearly, Little Sisser, but please, DON'T TOUCH THE DWARFS! (LOL!)