I'm happy you're here with me today! Can you believe it is already March? I'm so glad to see the bulbs begin to peek their heads above the cold ground. It reminds me that spring is on the way and soon the yard will be scattered with spots of beautiful, bright colors from those bulbs. Are you looking forward to spring? Where ever it is you call home, I hope the weather is nice. This month we are going to talk about a doll that is so very popular right now. Can you guess? Well, grab your coffee and put your feet up for just a few minutes and "Let's Talk Dolls." Without a doubt one of my favorite subjects!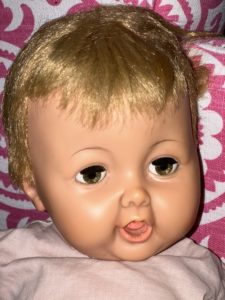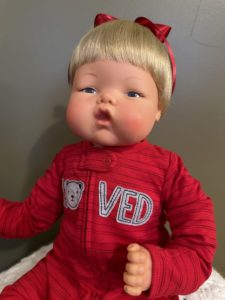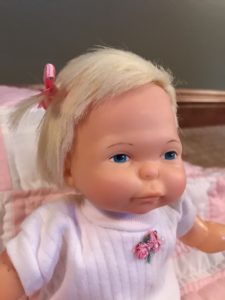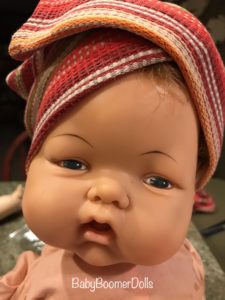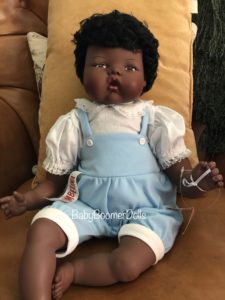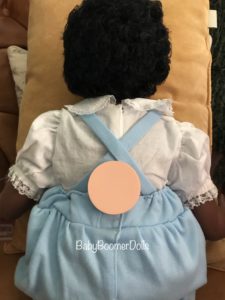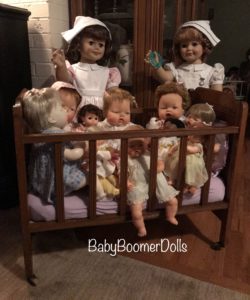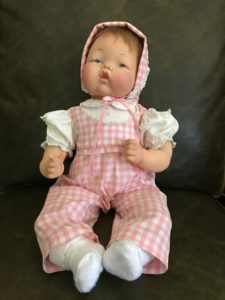 How many of you have a Thumbelina doll (or more than one)? Do you remember Thumbelina from your childhood? She varies in size, has rooted hair, painted eyes, and a cloth and vinyl body. She has a round knob on her back which, if you're lucky enough to have one that still works, will make this doll move gently. This movement is meant to imitate a wriggling baby. Some dolls may also walk, cry, or blow kisses. This chubby cheeked doll was made by the Ideal Toy Company beginning back in 1961 and continuing into the 1976.
Thumbelina's playful face and body were a big hit in many households across America. Thumbelina is still so popular right now that she has her own Facebook group, Ideal Thumbelina Doll Family and Friends. The group consists mostly of women exchanging beautiful and spectacular photos of their own Thumbelina dolls in many adorable outfits.
So, WHY is Thumbelina named Thumbelina? Think back to your fairy tales…you will remember. Thumbelina comes from the Hans Christian Andersen's story about a thumb-sized girl. Ideal created different versions of this doll. There were newborn, tiny, and toddler models with sizes ranging from 9 to 20 inches. Most had blonde hair and blue eyes, but others had brown hair and green eyes. Moveable, sleep, and fixed, painted eyes were common among models. Hairstyles were either a pixie or a bowl cut. Back in the day, (when I was a kid) you could find these dolls at most department stores, including Kresge's (anyone remember Kresge's aka the Dime Store??) Spiegel, and Montgomery Ward. In addition, television commercials during children's programming advertised Thumbelina dolls.
Thumbelina dolls appealed to children because they are the same size a real babies and had realistic movements. Thumbelinas are among the best-selling baby dolls in toy history and beloved among doll collectors.
As the years passed, many variations of Thumbelina were introduced with different outfits and accessories like cradles, rocking horses, and even Beetle cars. Ideal was bought out by CBS Toys in 1982 and eventually became a subsidiary of Mattel. Therefore, Thumbelina dolls from the 1980s onward have different composition and manufacturing. When Thumbelina was reissued in the 1980s, the company added an African-American version of Thumbelina for the first time. The 1980s Thumbelina dolls are the only lines that include African-American models.
The first Thumbelina doll was 20 inches, and a 14-inch Tiny Thumbelina came shortly after. The Newborn Thumbelina was from 1967 and was 9 inches tall. Other Newborn Thumbelina dolls were made until 1970.

Ashton-Drake licensed a 10-inch Newborn Thumbelina under Mattel. There is also a Newborn Thumbelina doll in a Christening Dress.
The 19-inch Bouncing Baby Coos dolls are from 1962 and 1963. Due to the short production span, original Baby Coos doll are considerably rare. Baby Coos dolls have a yawning Thumbelina face mold and a serial number but no movement or sound mechanisms.
The Thumbelina Snoozie doll had sleep eyes.
The Bye-bye Thumbelina came with a special VW-type car with the winding knob on the trunk.
The Sister Thumbelina dolls were from 1968. They were either blonde or brunette.
The Toddler Thumbelina dolls were "early walkers" that came in standard or "jingle" versions. Accessories included a walker, a rocking horse, and Jingle versions had bells attached to their socks.
Kissing Thumbelina had a spring-activated arm that mimed blowing a kiss once wound, and Tearful Thumbelina was a crying doll.
The 1976 Wake Up Thumbelina was a doll that responded to a pat on the back. The touch activated a mechanism that made the doll wiggle, turn its head upward, and roll onto its back.
The Thumbelina dolls with cry boxes had a hold in the ear. If operable, the sound came out of the ear hole when the pull-string was activated. The string was the movement mechanism instead of a knob on later dolls. Therefore, the ear hole is a more reliable identifier. Ashton-Drake and Tycho released reproductions of Thumbelina dolls. The name "Thumbelina" has since been used by different doll manufacturers.
Ideal Thumbelina Dolls – Marks
The Ideal toy Corporation marked each Thumbelina doll with a serial number and tag. The head mold has the serial number at the base of the neck. The letters "OTT" are followed by a number for most dolls. On the other hand, the Thumbelina Snoozie and Baby Coos dolls have "YTT"before the number. The first numbers represent the doll's height in inches. The Thumbelina dolls' cloth bodies often have tags. The tag has the name of the doll.
Well, as you can see, Thumbelina has quite a history! Now as doll collectors many of us strive to find a Thumbelina doll that looks just right and will still wriggle. For me, I searched for years and more years for Baby Coos. I would still be searching if a friend hadn't let me adopt hers. That doll is among one of my most cherished for many reasons. Each of our dolls had a story to tell before we adopted them, and that story will continue long after someone else adopts them. I've often wondered what stories they would tell if they could talk…
So, the next time we are together, it will be April! Until that time, please stay well, stay safe, and be kind to others. Your smile may be the only smile someone sees today. Make it count!
Warm Hugs,
Lynn
BabyBoomerDolls
**All photos were taken by me and the dolls photographed belonged to me at the time photos were taken.**