Hello, babyboomerdolls.net readers! I'm happy you're here for the second part of our interview with Patti Playpal. Let's get started and "Let's Talk Dolls!"
LYNN: Patti we are happy to have you back with us here on 'the blog'. You are a fascinating personality in the doll world. Many of our readers collect you as well as other members of the Playpal family. You were the premiere member of the Playpal family and the doll most people are familiar with. More Patti dolls were produced than other members of the Playpal family which makes Suzy, Penny, Peter, and especially Johnny, Bonnie and Pattite harder to find.
PATTI: Thank you for asking me back! I love all this attention being drawn to me and my family. And we can reveal some interesting facts about us!
LYNN: Patti, as you know there are several clone companion dolls out there. A doll collector just getting into collecting the Patti Playpal dolls can be overwhelmed and often misinformed by those selling large vintage companion dolls. How do we know that we are getting a genuine Patti Playpal doll?
PATTI: Well, let's start at the top….(giggle)….I'm 35 inches tall and I am the size of a 3 year old child. I am marked "Ideal Toy Corp/G 35" OR "B-19 -1" on my head and "Ideal" in an oval on my back. It is believed that the earliest of Pattis manufactured in 1959 had what collectors refer to as "swivel" or "twist" wrists and were non-walkers. It is also believed that the Pattis that were walkers were manufactured in 1960 and beyond. There were reissues of the Patti Playpal dolls in 1981 and 1986.
LYNN: Was Ideal the first toy company to produce a "life-size" doll?
PATTI: No, Ideal was not the first to produce a "life-size" doll. There are printed American Character ads as early as 1953 showing pictures of the Life Size Sweet Sue doll. Ideal was, however, a trail blazer in manufacturing dolls and toys that had celebrity and promotional tie-ins.
LYNN: Ok, so far, the Patti Playpal facts at a glance are that the doll is about 35″ tall (some measure in at 36″, probably due to hair style variations). The doll was made to resemble a 3 year old child. Patti comes with different hair colors…just how many different hair colors are there?
PATTI: Oh my! There is a list….here we go!
Blonde (most common)
Auburn
Brunette (also called dark brown or black)
Brown (a lighter brown than brunette – rare)
True Black (rare)
Black Cherry (standard brunette with a reddish cast-very rare)
Strawberry Blonde (standard Patti blonde with a red tint to it)
Light Auburn or Cinnamon (rare)
Carrot Top (rare)
Platinum (rare)
Gold Platinum or Champagne (rare)
I think that covers them all…I don't think even I realized there were THAT many.
LYNN: That's a dozen different hair colors! I had no idea. Let's dig into this just a little deeper. How many eye colors were there?
PATTI: Oh, that's an easy one! There were only three eye colors. They were: Blue, Blue-Green, and Green.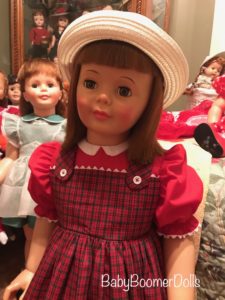 LYNN: That was an easy one. I often see Patti dolls with different hairstyles. Can you tell us a little about those?
PATTI: Absolutely! I'd be happy to! There are several of those also. They are:
Long straight hair with straight bangs (most common)
Curly Bangs (same hairstyle but with curly bangs – rare)
Flip (long straight hair, but with curly bangs and curly ends – rare)
Curly Top (tightly curled hair, usually about chin length)
Curly Bob (like the Curly Top, but very short – rare)
Ponytail (hair is rooted all around the hair line to accommodate the ponytail – very rare)
Pulled-back (rare)
Pageboy (like the long straight hairstyle, but a shorter version, about chin to shoulder length. Although these dolls are hard to find, they are not valued at more because this style would be very easy to "create" out of the more common long, straight style.)
No Bangs Patti (rare)
Spitcurl (rare)
LYNN: Well, Ideal outdid themselves on hair colors/and styles, didn't they?
PATTI: Oh, here is something interesting…Did you know that a Suzy Playpal with straight hair is considered rare?
LYNN: That's very interesting. I wasn't aware of that. Patti, could you tell me about the first appearance that the Playpal dolls made?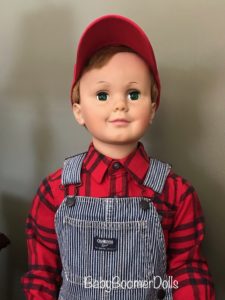 PATTI: Our first appearance was in the 1960 Sears Christmas catalog, but we weren't listed as Playpal but as "Honey Mates." Both Peter and I were featured in the catalog and the outfits we wore, a red crested blazer for Peter and a peasant-style dress for myself are referred to by collectors as the "Honey Mate" outfits. I understand that they are hard to find.
LYNN: So you made your debut appearance at Christmas in 1960.
PATTI: Here's another fun fact for your readers: The quickest way to tell a reissue Patti Playpal from the original, at a quick glance, is that the 1981 versions have stationary, rather than sleep eyes.
LYNN: Patti, you are a wealth of information! This interview has been very informative for we Patti Playpal collectors.
PATTI: I'm happy to help! After all, I was there for all of it! Teeheeeheeee!
LYNN: Patti, there are still some interesting facts I know you would like to share with our readers. Could we pick up where we left off next time?
PATTI: I will look forward to it! Tell all your Patti collector friends about my interviews!