Hello, dear friends and followers! By the time you read this post, it will be November! Seems as though this year has swooshed past and left me in a whirlwind! I hope you are all doing well and are healthy! This post we will briefly dig into the come-up-ins (I'm not sure that is even a word, but I've heard my Granny use it all my life!) of our beloved Kewpie doll. Most of us know the background stories of Rose O'Neill, but the roots go just a little deeper. Grab your favorite coffee/tea and put your feet up for just a few minutes and "Let's Talk Dolls!"
Kewpie is a brand of dolls and figurines that were conceived as comic strip characters by cartoonist Rose O'Neill. The illustrated cartoons, appearing as baby cupid characters, began to gain popularity after O'Neill's comic strips in 1909. O'Neill began to illustrate and sell paper doll versions of Kewpies. The adorable characters were first produced as bisque dolls in Germany, beginning in 1912, and became extremely popular in the early 20th century.
The Kewpie dolls were initially made from bisque exclusively, but composition versions were introduced in the 1920s and celluloid versions were manufactured in the following decades. In 1949, Effanbee created the first versions of the dolls, and soft rubber and vinyl versions were produced by Cameo Co. and Jesco between the 1960s and the 1990s.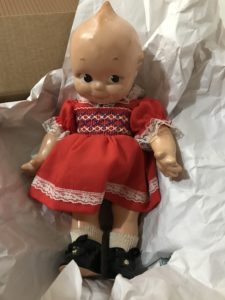 As demand for the Kewpie characters increased, George Borgfeldt & Co. in New York contacted O'Neill in 1912 about developing a line of dolls and figurines. O'Neill agreed, and J.D. Kestner, a German toy company located in Walterhausen, set forth to manufacture small bisque dolls of the Kewpies. After manufacturing the first run of dolls, they sent samples to O'Neill, who disapproved of the design because she felt they "did not look like her characters." O'Neill traveled to Germany and had the company destroy the moulds of the dolls, and oversaw the final redesign of them, working with a 17-year-old art student named Joseph Kallus. The dolls were then released in nine different sizes ranging from 1 to 12 inches in height. These early Kewpies wore a heart- shaped decal on their chests, which read "Kewpie, Germany", and some had jointed arms. Many of the original German Kewpies were signed by O'Neill herself. Some were even featured in different poses.
The small dolls became an international hit, and by 1914, O'Neill had become the highest-paid female illustrator in the country garnering a small fortune from the wild popularity of the dolls. The Kewpie brand soon became a household name, and was widely used in product advertising, including promotion for Jell-O, Colgate, Kellogg's Corn Flakes, and Sears. The Kewpies also appeared as a brand on a multitude of household items and other memorabilia, such as dishwater, rattles, soap, pepper shakers, coloring books, poetry collections, and stationery. O'Neill also used the characters to famously promote the women's suffrage movement, using the illustrations in slogans and cartoons.
After WWI began in Europe, production of the bisque Kewpie dolls moved from Germany to France and Belgium, due to the rising tensions. Around this time, the dolls also began to be produced in the United States being made of composition material rather than the bisque, due to the bisque's fragility. The manufacturers also began o increase the size of the dolls, producing 22-inch versions in addition to the 12-inch versions. The American composition dolls also had the distinctive heart- shaped decal on the chest. Like the original bisque Kewpies, some of the composition Kewpies were also hand-signed by O'Neill.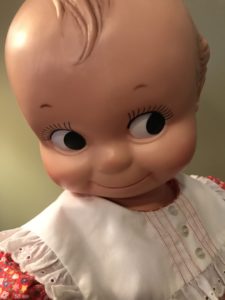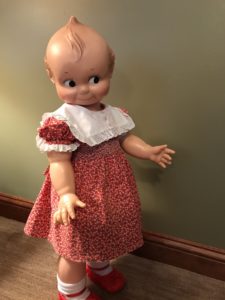 In the mid-1920s, small sized celluloid versions of Kewpies appeared, and were often given out as prizes at carnivals. Many of the celluloid versions were mainly manufactured in Japan, unlicensed, and were of a lower quality than other Kewpies.
As photographs became more popular in advertising, the prominence of Kewpies in the marketing circuit began to wane. O'Neill returned to Missouri where she died of complications of a series of strokes in 1944. Despite the lessening in popularity, Kewpies continued to be manufactured for the majority of the century. those included plastic versions, as well as all-bisque replicas of the original Kewpies produced by Jesco and Cameo Co. in the 1960s-1990s. These reproduction copies lack the heart-shaped decal that distinguishes the original, older versions.
Now, you have the basic history, let us step back for just a moment….In 1911, O'Neill advertised for a sculptor who could translate her Kewpie design into a doll form. Joseph Kallus, a 17-year-old student at Pratt Art Institute, applied for the assignment and became a life-long associate of Rose O'Neill. He sculpted the models for the first bisque and celluloid Kewpie dolls that were made in Germany in 1913.
In 1925, Kallus founded the Cameo Doll Company and produced many dolls from his own design. His creations were made into dolls by other firms. Kallus designed Scootles, Joy, Margie, Pinocchio for Ideal, Miss Peep and others. She, Rose O'Neill died in 1944, she assigned all merchandising rights to Joseph Kallus. In 1969 when Kallus retired from active participation in the doll industry, he licensed Strombecker and later Milton- Bradley Company to manufacture Kewpie. The Kewpie and Cameo properties now belonged to Jesco Imports, Inc., of Los Angeles, CA.
In 1982, Nancy Villasenor, the President of Jesco, met with Joseph Kallus to discuss the Kewpie properties. In the spring of 1982, Nancy went to New York to meet with Kallus, then age 89, to discuss licensing arrangements for making Kewpie dolls. Kallus saw in Nancy a person who would do with Kewpie as he had done. He said he was not interested in making money at his age as he was continuing in the traditions of excellence that had always been associated with Kewpie and the Cameo and he thought that Nancy would do this. Kallus agreed to assign all the right to Kewpie and the rights to Cameo design to Nancy Villasenor when he realized her business goals equaled his. She was committed to developing a business based on quality toys for the quality toy market.
After Kallus and Villasenor had concluded the initial part of their business arrangement, Kallus was injured in a traffic accident and died suddenly. Rita Abaraham, Kallus' daughter, who had no interest in her father's designs met with Villasenor when she went to New York to supervise the transportation to California of the original Kewpie and Cameo molds. Mrs. Abraham wanted Nancy to have the 12 trunks of Cameo design dolls, clothing patterns, and Rose O'Neill art work that Mr. Kallus had sorted in his apartment, along with many boxes of files and business records.
Villa seniors first Kewpies released in 1983, were a re-issue of the 27-inch Kewpie of 1966. "Yesterday's Kewpie," a 16-inch dressed un outfits from the past, and "Kewpie Goes"… a 12-inch series in theme oriented clothing designs.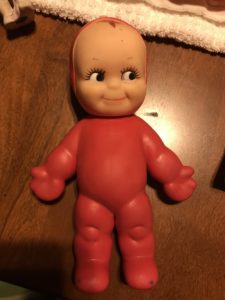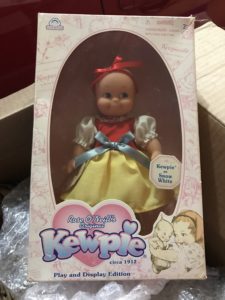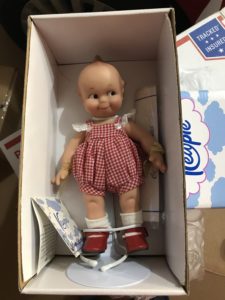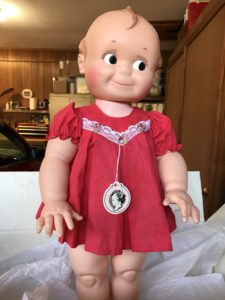 The re-issued Kewpie from 1966 for collectors as made by Jesco is slightly smaller than the original version. This is because the older version was made from a stock body and legs, whereas the Kewpie made by Jesco is cast from Kallus' original molds. Villasenor stated that, "It would have been more cost effective to make new molds, but we were committed to using the original molds as we promised Joseph Kallus."
Villasenor has given up much of her European product import company to concentrate on developing and manufacturing Cameo designs by Joseph Kallus. Said dolls are manufactured in California, from American components. Jesco promised to pursue the directions relating to Cameo dolls, continuing the tradition of Joseph Kallus. Doll design, development and manufacture will expand in both areas. Jesco does not take any short-cuts, such as using cheaper blow-molded doll bodies. Jesco's attitude is that its growth pattern should be for "better dolls," not "more dolls."
In addition to the return of Kewpie for 1983, Jesco has also developed a series of 15 high-quality dolls in the selection called "Cameo's Storybook." These are familiar characters from children's fiction, like Goldilocks, Sleeping Beauty, and Pinocchio. Doll collectors and children of all ages are delighted that Kewpie is back again – and back to stay at Jesco.
Okay, friends, that is the history of Kewpie up to and through the early 1980s. Obviously there is more to follow, but for the sake of time, we will pursue that on another post. I hope you have enjoyed this synopsis of Kewpie History. I must admit that I truly enjoyed researching the information to put this blog together.
Until we are together again, stay safe, be well, and most importantly BE KIND TO ONE ANOTHER!
Hugs,
Lynn