September is quickly coming to a close. The days are getting shorter and the temperatures are getting a little cooler. These are signs that fall is on its way in and summer is headed out for yet another year. Soon the leaves will begin to turn bright oranges and yellows and occasionally crimson. It is time to find your jackets and sweaters. These signs tell us all that fall is just around the corner, but they also remind us that the holiday season is swiftly approaching.
Holiday season here at our house is a busy time from late September to early January. There are different degrees, if you will, of busy, but none the less – busy. At heart, I am a child that has never grown up as far as decorating for the holidays. I enjoy all the decorations and the preparations that are attached. I love seeing the faces of those who enjoy the holidays as much as I. There is just something magical about the holidays for me. Just this week someone asked me if I use my dolls to decorate.
A cute Madame Alexander Witch or perhaps this Little Devil for Halloween. Or I have dressed the Playpal Dolls for Halloween!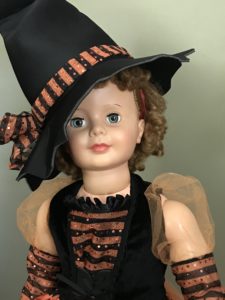 These are a couple of the costumes the Playpal Gang will be wearing this Halloween.
Christmas is my favorite holiday. My youngest granddaughters say "nobody does Christmas like Memaw". Yes, I do pull out all the stops. It takes quite some time to get it all decorated, but it is so worth it because I enjoy it and because I am making memories for my grandchildren. They will remember Christmas at Memaw and Pepaw's house not necessarily because of the gifts, but that there wasn't a spot where Memaw didn't have it decorated. I love to see the joy in their eyes when they walk through the door to see it all!
The dolls have to get their Christmas dresses on…
help to decorate the tree…
Oops! That's Violet, one of our two cats. She likes to get in on the decorating. She thinks she looks beautiful under all the lights. And it is one of her favorite napping spots!
She also likes to help the girls get their hair in place because she knows there will be plenty of photo opportunities .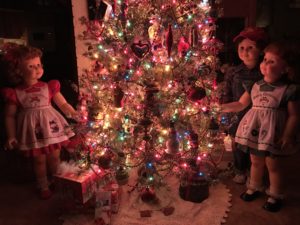 Finally, after much preparation, this tree is coming together nicely. But this is only the tip of the iceberg!
This is Frances, our other cat. She is helping to adjust the bow on Penny's Christmas dress….
And last, but not least by any means, this is one of my most beloved dolls EVER. I'm sure you don't need to be introduced. To many (even some in my own family) this Santa is worn out and ugly. I don't see that. He has been around since before I was born. He belonged to my Granny. He came out every Christmas that I ever recall as a child. I was allowed to wag him around and love him as every sister, grandchild, and great-grandchild was. That's probably why his face has a crack, his beard is a little dirty, his arms/legs are limp and the felt on his suit is no longer smooth, but worn from the touch of MANY little hands over the years. He lives with me now and still makes his yearly appearance amongst the decorations and dolls. This is one of my earliest and definitely most favorite Christmas memories.
So when I'm asked if I incorporate my dolls into my holiday decorating, the answer is ABSOLUTELY! And these are but a few pictures. There are so many opportunities to use dolls from your collection in your holiday decorating throughout the year!
I want to ask you….DO YOU USE YOUR DOLLS IN YOUR HOLIDAY DECORATING? If so, please share….
Let's Talk Dolls,
Lynn