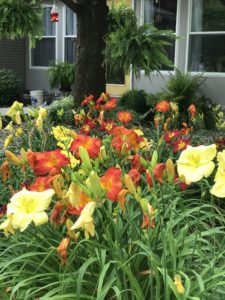 My name is Lynn. I live in the Midwest portion of the United States in a small rural area. I am married to a wonderful man. Together we share three grown children and their spouses and six wonderful grandchildren. We also have two cats who allow us to occupy the house with them!
I enjoy gardening and cooking. We relish our time in the yard together making new plans for the next addition be it flowerbed, tree, dry creek bed…it is an ongoing project! It is something in our lives that we both enjoy, and it has made for an especially nice place to spend time during the past several months.
We are at a stage in life where we are able to enjoy and experience things that you are unable to do when life is 9 to 5 Monday thru Friday. While we do enjoy our time together, we also have our own hobbies. While he enjoys being in the garage, my PASSION is dolls. I collect, restore, and often sell dolls from the baby boomer era. Many of these are dolls from my childhood and they have the ability to transport me momentarily back to a time when I didn't have a care in the world.
For me, there is such JOY in restoring a doll who is likely 50-60 years old back to her former glory as a beautiful doll. That brings us around to the purpose of this blog. Instagram is great, but often more times than not, especially now, some conversation with those who share your passion for dolls and all the wonderful things that go with them is nice.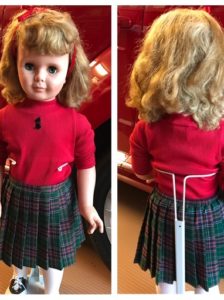 This can be a place to share tips on caring for or restoring your doll…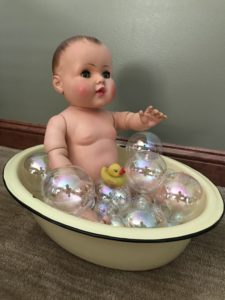 …or possibly sharing a favorite memory or photo of a favorite doll…
…or being able to share the excitement of the doll you purchased today that had been on your wish list for so very long…
…or using it as a learning tool.
Or asking for help identifying a doll that you had to have but know absolutely nothing about, such as this little lady…
I have seen dolls that belong to my IG friends that are fascinating! I had no idea those dolls were out there!