Hello dear friends! I'm happy you are here with me again today! The holidays are now in the rear view mirror and we are almost through the first month of 2023. I hope you and yours are well. The research for this post has been lengthy and I even thought of dividing it up into two posts, but decided to make it just one. So – grab your hot tea or coffee and "Let's Talk Dolls!"
I have heard people ask if Madame Alexander is a real person or just the name on the end of the doll box. Yes! She was not only a real person, she was considered a true American original – an iconic figure in the world of toys as unique as the dolls she created. As a pioneering businesswoman and exquisite doll designer, Madame Alexander shaped the doll industry with her revolutionary innovations and vibrant vision. She embodied a bold spirit and a classic sense of style that she poured into each and every doll created for the Madame Alexander Doll Company. She viewed dolls as a valuable learning tool that could teach children empathy, compassion, and responsibility. This passion to make high-quality dolls that could be played with and loved led her to create the premier American doll brand that we still know and love today.
The doll play we know today, we owe to Madame Alexander. Madame's earliest contribution was inspired by her time spent as a young girl in her stepfather's doll hospital, where she saw many beautiful porcelain dolls in constant repair. During a time when breakable, porcelain dolls were the standard, she fashioned a cloth doll that was meant to be both beautiful and to be played with. But that was just the beginning…Madame brought to life literary characters and notable people in a way not previously done before. An era of toy industry firsts cemented her legacy as the mother of all modern doll play.
Madame Alexander Pioneered Many Industry Firsts
1895 Born
1912 married Philip Behrman
1923 Established Alexander Doll Company; Replaced typical porcelain with cloth to encourage play, then went on to innovate with materials throughout her career
1930s Created the first toys with officially licensed tie-ins to entertainment properties: Alice in Wonderland, Gone With the Wind, and Little Women among them Popularized "sleep eyes" – the innovation that allows dolls to close their eyes
1936 Created the Scarlett O'Hara doll
1937 Created the first doll of a young Queen Elizabeth to commemorate her father's coronation
1942 Introduced Jeannie, one of the industry's first walking dolls
1947 Created the first plastic face mold, changing the doll industry forever
1951 Won the first of four consecutive Fashion Academy Gold Medals for design
1953 Developed a 36-doll series to honor the coronation of Queen Elizabeth II
1955 (One of my favorites) Debuted Cissy, the first fashion doll in America
1957 Introduced Cissette, a 10-inch version of the popular Cissy doll
1988 Officially retired and sold Alexander Doll Company
1990 Died
Madame Alexander was Creating a Better World, Not Just Better Dolls
Madame Alexander believed in furthering compassion, empathy, and meaningful relationships through doll play and creativity. Nearly a century later, the Madame Alexander Doll Company continues to honor her originality, vision, and purpose of making the world a kinder place.
Born more than a century ago, Madame Beatrice Alexander Behrman is still a role model for girls today. Founding her company in 1923, Madame set out to create her own success through unmatched quality and ambition. As the daughter of two immigrants, Madame defied expectations and stereotypes to become a successful businesswoman in a world filled with businessmen. Her passion for literature, art, and culture combined with her love of dolls earned her numerous awards over her lifetime. Not only was she dedicated to her craft, she was also a dedicated mother who envisioned a better future for all women.
After 100 years in business, the Madame Alexander Doll Company is devoted to carrying on Madame's mission of creating beautiful, quality dolls that deliver invaluable play experiences for children and inspire passion in collectors.
All of the above information will serve as an "outline" for the history of Madame Alexander Doll Company. Now we can fill in the blank spaces with the details….
Madame Beatirce Alexander Behrman
(1895 – 1990)
Alexander Doll Company
Madame Beatrice Alexander Behrman, often referred to simply as "Madame Alexander," became know as the First Lady of doll making of the twentieth century. Her innovative, high quality dolls new first introduced in the 1920s, and over the next 65 years, Alexander designed a wide array of highly popular dolls that remain valuable collectors' items.
Beatrice Alexander Behrman was born on March 9, 1895, in Brooklyn, New York as Bertha Alexander – a name she later changed because she thought Beatrice sounded more sophisticated. Her mother, Hannah Pepper, was born in Austria and lived in Russia for a time before immigrating to the United States as a young woman to escape Jewish persecution. There are two stories that circulate among Alexander's descendants regarding her mother's early life. Regardless, it is certain that Alexander's mother was widowed and married again shortly after arriving in the United States. Maurice Alexander, another young Russian immigrant, became Alexander's much-adored step-father and the man she always considered her father. The family, including Alexander's three sisters, Rose, Florence, and Jean, grew up in the center of New York's thriving immigrant community of the Lower East Side on Grand Street.
Alexander was introduced to the world of dolls in infancy. In the same year as her birth, her stepfather opened the first doll hospital in the United States. By the time she was eleven years old, Alexander knew she wanted to enjoy the finer things in life, often dreaming of riding in a carriage wearing a hat with ostrich feathers.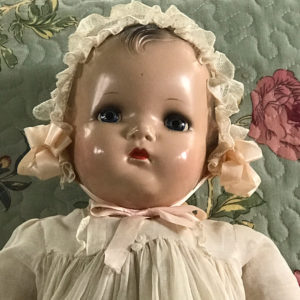 Shortly after graduating from high school as valedictorian on June 30, 1912, Alexander married Philip Behrman. In 1915, the couple's daughter, Mildred, was born. Alexander's life was disrupted by the onset of U.S. involvement in WWI. Her family remained physically safe, the economic impact was devastating. Because most of the dolls (and doll parts) were manufactured in Europe (primarily Germany and France), the source of dolls dried up as did the market for doll repair. With the future of the doll hospital, and her parent's financial well-being, highly uncertain, Alexander became determined to keep the family business open.
Soliciting the help of her three sisters, Alexander began sewing cloth dolls to sell in her father's shop. The dolls, made of inexpensive cloth rather than expensive and often unavailable china, were a great success and provided enough additional income to keep the doll shop open during the war years. The first doll designed by Alexander was based on a Red Cross nurse, thus drawing on the common national interest in the war effort, and foreshadowed Alexander's life-long ability to select models of her dolls that appealed to the general public.
In 1923, Alexander secured a $1,600 loan and established the Alexander Doll Company. Thus she began her career as the world's leading lady of dollmaking.
Over the next 60 years, Alexander Doll Company grew from four sisters sewing around the kitchen table to a multi-million dollar business, the largest American doll company and the largest employer on the Lower East Side. The Madame Alexander Doll Club was formed in 1961, with membership growing to over 12,000 by the early 1990s. At some point, probably during the 1920s, an advertising executive who thought Alexander looked French dubbed her "Madame Alexander," a name of honor that remained throughout her lifetime.
Alexander remained actively involved in her company into the early nineties. However, during the 1970s, she gradually turned over daily operations to her son-in-law, Richard Birnbaum, and grandson, William Birnbaum. She spent more and more time at her second home in Palm Beach, Florida, making rare appearances on the company's behalf. At the age of 93, Alexander sold her company to private investors, and she officially retired, although she did maintain a primarily honorary position as design consultant. Two years later, on October 3, 1990, Alexander died in her sleep at her home in Palm Beach; she was 95 years old.
Alexander was attentive to the minutest details of her dolls' features: "I didn't want to make just ordinary dolls with unmeaning, empty smiles other painted lips and a squeaky way of saying 'mama' after you pinched. I wanted dolls with souls. You have no idea how I labored over noses and mouths so that they would look real and individual." Alexander also introduced the use of rooted hair, sleep eyes, and walking dolls.
As just a little fun fact – Alexander made headlines again in 1955 when she introduced the world to the 20- inch Cissy doll, the first full-figured, high-fashion doll, complete with high heels and lacy undergarments. Cissy, on the market four years before Barbie, caused a stir and became an overwhelming success. Cissy was followed two years later by a 10-inch version, named Cissette. Alexander boasted in a promotional brochure, "Cisette is jointed at the knee, hips, shoulder, and neck, and is so exquisitely modeled that she looks like a real person, tiny and perfect." These dolls, considered the hallmarks of the Alexander Doll Company, had their own catalog that offered innumerable accessories, including a complete wardrobe from hats and shoes to lingerie, casual wear to formal wear, and brass furnishings such as a bed, dining table and chairs, and a tea set.
Alexander was also pleased by the collectors' desire for her work. "Doll collectors are highly cultured people who have the capacity to appreciate my work."
Alexander had a complex relationship with her social and business surroundings. On one hand, she was a great woman entrepreneur during a time when the business world was unaccustomed to female competitors. Alexander built her doll company into a multi-million dollar business. Until her retirement, Alexander ran her company with an unfailing sense of style, business sense, and independence. On the other hand, even though she as a pioneer for women's place in the industry, her products often left her at odds with the growing feminist movement, who viewed the pretty dolls as a step back for women's rights and self-worth. Alexander argued strongly that the dolls provided positive roll models for girls, teaching them how to love others and themselves. Nonetheless, her love of high fashion and pretty hats with ostrich feathers did little to endear her to the feminist movement.
At its peak, the Alexander Doll Company employed some 1,500 people at numerous factories and produced over a million dolls annually, with annual sales topping $20 million by the mid-1980s. The company's most popular doll, the 8-inch Wendy doll was introduced in the 1950s. Madame Alexander Dolls take up to three weeks to craft by hand and are the foremost collectible dolls in the world. The company introduced more than 5,000 different dolls.
So, this has been a brief rundown of the 100 year anniversary (1923-2023) of the Alexander Doll Company and the achievements of a talented, determined woman with a vision. I hope you have enjoyed it! *All photos used in this post were taken by me, and the dolls belonged to me at the time photo was taken.*
Until we get together again, stay well, stay safe, and be kind to one another!
Hugs,
Lynn
BabyBoomerDolls