A favorite doll, do you have a favorite doll? Or perhaps a favorite brand of doll…do you have a favorite brand? As doll lovers we all seem to have some dolls that we like just a little more than others. I don't really think I realized this about myself until just lately. A good friend of mine sent me a photo of a Toodles doll and her comment was: "Anytime I see a Toodles doll, it makes me think of you." I found that to be a wonderful comment, but it also got me to thinking. I began looking at my doll collection and notices just how many Toodles dolls (and different types of Toodles dolls) I own. I was slightly stunned, and no, I'm not going to disclose that number (giggle). When I come upon a Toddles doll, I try my best to rescue her and to give her a second round of bringing joy to doll lovers. I've opened with those few statements to follow up with the following…
In 1955, the American Character Doll Company introduced the "Toodles" multi-jointed plastic doll. The doll was able to "kneel, sit, and play in some 1,000 different positions." Toodles became a big seller for American Character, including its associated products like "Toodles Toddler" (1955-1959), "Teeny Toodles" (1959-1960), and "Tommy Toodles" (1959-1960).
A brief description of the Toodles dolls:
Teeny Toodles (1959-1960) was 11″ tall, vinyl five-piece jointed doll
Tommy Toodles (1959-1960) was 22-23″ and marketed as Toodle's Brother
Toodles (1955-1960s) was 19-30″ plastic multi-jointed doll
Toodles Toddler (1955-1959) was 19-1/2″, 21″ and 24″ vinyl multi-jointed doll also known as "Toodles the Action Doll"
1955-1960s American Character Toodles Doll was 19-30″ tall, hard plastic multi-jointed body including the elbows and knees, rooted or molded hair, flirty sleep eyes, drink wet doll, open mouth, the 1960-1961 Little Girl Toodles doll has teeth and an open mouth. Toodles can kneel, sit, play and assume 1,000 different positions. Some rare early dolls are marked Toodles, others were marked: AM, Amer9, American Char. or unmarked.
1955-1959 Toodles Toddler doll, 19 1/2″, 21″, and 24″ tall, vinyl head, flirty eyes, with multi-jointed body including elbows and knees; Toodles the Action Doll, Toodles with Poodle, and Toodles with her three-way Super Kart.
1959-1960 Teeny Toodles doll, 11″ tall, all vinyl, molded or rooted hair, drink and wet, five-piece jointed body.
1959 American Character Toodles doll, 19, 23-24 or 26″ tall vinyl head with rooted short curly hair or braids with curly bangs hair, flirty sleep eyes, real upper curly eyelashes, drink wet doll, open mouth, five piece plastic jointed body with straight legs, walker doll, doll came dressed in several different outfits, doll marked Amer. Char. Doll Corp. circa 1960.
1959-1960 American Character Tommy Toodles doll, 22-23″ tall, Toodles brotherwith lightly molded and brown painted hair, jointed five-piece toddler body with straight legs, flirty sleep eyes with real brush eyelashes, drink wet doll, open mouth, dressed in a blue and white striped short sleeve shirt, blue suspended shorts, white rayon socks and white shoes, doll marked Amer.Char. Doll Corp.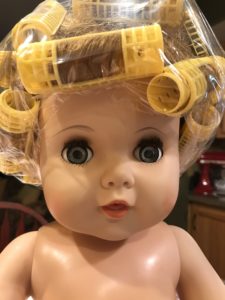 I was thinking I had all the Toodles dolls listed, there are still more which date back to the early 1930s!
1931-1937 American Character Toodles doll, 18″ tall, composition head with molded painted hair, green sleep eyes with special mechanism so the eyes only sleep when the doll is lying down with the head turned to the left, flex-o-flesh body with metal steel frame support, open mouth with tongue but no teeth, rubber bent arms and rubber bent baby legs. doll is marked on head Petite, doll marked on body with a horseshoe symbol Petite, Pat. Pend.
1937-1949 American Character Toodles doll, 17″ tall, made of life like rubber composition parted head and limbs, cloth stuffed body, mama crier and a drink wet doll with a rubber tube inside the body. Has molded painted hair, sleep eyes, open mouth with no teeth showing, wore a sheer baby gown and had a glass bottle with nipple, doll is unmarked. American Character named several dolls Toodles over the years. Note: If your doll is marked in script Toodles,it is by the Atlas Doll & Toy Company.
Toodles has basically been around since the early 1930s. However, Toodles as we know her today has been loved by many since the mid 1950s. I guess I relate to Toodles because she comes from the same time period as when I was growing up, she is a classic baby doll, and she has both the size and many of the movements of a real baby. I love all my dolls, but I must admit that Toodles is a favorite. So…I will ask again – do you have a favorite doll? (smile)
I realize that this is a lot of facts and dates, but it just goes to show that even at her age, Toodles is still very much a classic! There are many of us who collect and love her for many different reasons. I guess you might even say that she is "timeless."
That is a brief run of the "genealogy" of one of my favorite dolls – Toodles. I hope you have enjoyed this brief condensed version of Toodles and her family tree. Note that all photos in this piece were taken by me, and at the time the photos were taken, each doll belonged to me.
Until next month, stay well, smile, and most of all be kind! I appreciate those of you who are here with me and your kind support.
Hugs,
Lynn
BabyBoomerdolls