In the summer of 1927, Dorothy Gerber started straining solid foods for her 7-month old daughter Sally.  After repeating this process several times, Mrs. Gerber suggested her husband try it.  She also pointed out that the work of straining fruits and vegetables could easily be done at their canning business, based in Fremont, Michigan.  Workers in the plant began requesting samples for their own babies, and the legacy of Gerber baby foods began.
The Gerber baby has a face that has launched millions of containers of food specially prepared for babies.  In response to an advertising campaign to find just the right baby to publicize the new line, Dorothy Hope, an artist, submitted a charcoal drawing of Ann Turner, the baby daughter of her neighbor.  Dorothy Hope had offered to add more details if her drawing was accepted, but when the executives at Gerber saw it, they wanted it as-is.   In 1931, baby Ann's face became the officially registered trademark of Gerber baby food – the Gerber Baby.
The first Gerber Baby dolls appeared in 1936.  They were made of sateen, pink for girls and blue for boys.  They had a screen printed face.  Each doll held a plush "jar" of baby food and a toy duck or dog.  These dolls were about 8″ tall and were stuffed with cotton.  To get a doll, all that was necessary was to return a coupon from a Gerber Baby Food advertisement, along with a dime, and three labels from three Gerber baby food containers.  That first Gerber Baby offer ran for three years, during which more than 26,000 dolls were shipped.
The next Gerber premium doll was made in 1955 by the Sun Rubber Company.  It was twelve inches tall, had "drink & wet" capability,  a crier,  jointed arms and legs, and a soft vinyl head that could turn.  The baby was dressed in a diaper and a bib, came with a glass bottle with a rubber nipple, miniature Gerber cereal boxes, a cereal dish, and a spoon.  All this for $2 and a dozen Gerber baby food labels.
Sun Rubber also produced 14″ and 18″ Gerber Babies, which for three years of the premium campaign were sold through Sears, Roebuck catalogs and in toy shops and department stores.
There was another premium Gerber Baby from 1966 to 1968.  It was almost identical to the 1955 baby and the cost was the same.
In 1971 and 1972 two more Gerber Baby premium dolls were made.  Amsco Industires produced a 10″ white baby the first year of the campaign and a 10″ African-American baby the second year.  Both dolls were vinyl, were jointed, and had painted eyes.  These dolls didn't come with bottles.  Instead they were dressed in cotton sleepers.  These dolls had more of a toddler appearance rather than that of an infant.  They had eyes that roll from side to side and are known as "flirty eyes."   They cost $2.50 and 4 labels from any Gerber Toddler Meal, Strained or Junior Meat Dinner, or 2 box tops from Gerber fruit cereals.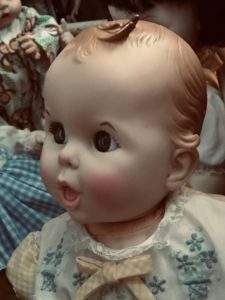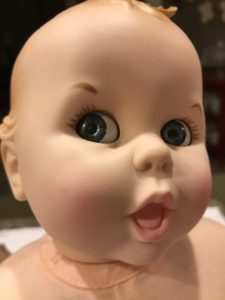 In 1979, Gerber celebrated its 50th anniversary and there was a new Gerber Baby doll, the first that was not a company premium.  This baby was the work of sculptor Neil Estern,  The doll was 17″ tall, soft-bodied, and had sandy colored molded hair. Estern was also responsible for the porcelain head of the soft-bodied doll which was beautifully dressed.  This Gerber Baby Limited Edition Collector's  Doll was made in 1983.
In 1996 the Gerber Baby was again back on store shelves.  To be instep with modern times, there were four variations.  Feel Better Baby, Loving Tears Baby, Potty Time Baby, and Tub Time Baby.  Each 20″ doll came with accessories appropriate to its name.  All had little Ann Turner's adorable face.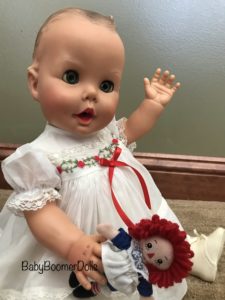 That original Gerber Baby is not so little anymore.  Ann Turner Cook was only 4 months old when she became famous as the original Gerber baby.   On November 21, 2020, she celebrated her 94th birthday.  She's all grown up now.  She still has those sparkling eyes and a cherubic face, but with a head full of gray hair and that same wonderful, contagious smile that we have all come to recognize.  Ann Turner Cook taught English in Florida up until her retirement and then began writing mystery novels.
Many of us have one or more Gerber Baby dolls in our doll collections.  We now have a little more knowledge of the history of this iconic doll.  Please join us again next month and "Let's Talk Dolls."
Hugs to all,
Lynn
BabyBoomerDolls
**All photographs were made by me and are my dolls.**