Hello, dolly friends and followers! I am so very sorry to be running late with this month's blog. Mr. BabyBoomerDolls, as you know, had a stroke earlier in the summer and we have been dealing with some issues held over from that incident. We have been and will continue to be making visits to specialists in order to get these issues ironed out. We are very much aware that the outcome is far better than it could have been and are VERY thankful to be so blessed. However, we would appreciate your thoughts and prayers during this time. Thank you in advance. I will keep you posted. I appreciate each and every one of you and what you mean to me.
Now, on to the subject of this month's blog – "
The story of the Effanbee Doll Co. and its founders, Bernard Fleischaker and Hugo Baum, is quite a success story. They were not dollmakers, just businessmen taking a risk. Much of their positive outcome can be attributed to research and new ideas. They studied the market, found what was popular and then added their own creations.
One of their most popular "inventions" was their "Dy-Dee" doll. The darling was introduced in 1933, and the first examples had rubber bodies and rubberized composition heads. The doll could be fed through her open mouth. Tubing ran from the mouth to her buttocks where a plug allowed her to wet on demand.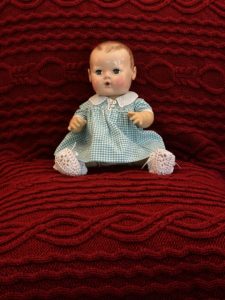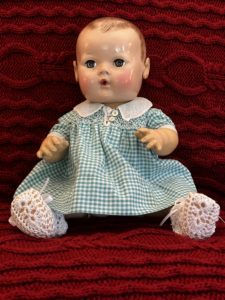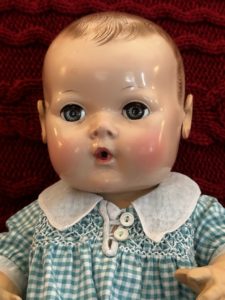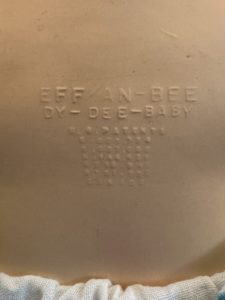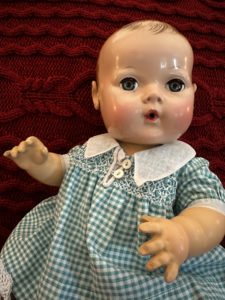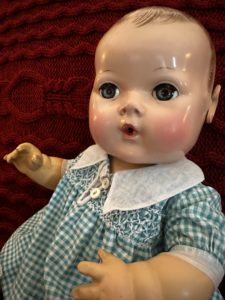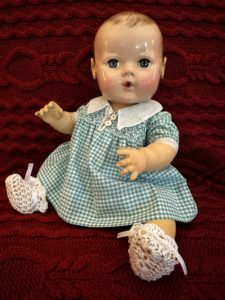 Controversial? Of course, it was. Some adults described the doll as offensive, but many admired the realistic baby. She became one of the best-selling dolls ever and played a major role in the Effanbee Doll Co.'s success.
The doll was offered for sale through the Montgomery Ward catalogs as well as retail stores. They literally sold by the truckloads. Every little "mama" in the land wanted one.
The early dolls had molded hair and molded ears, but by 1940 Effanbee had added applied rubber ears. These are quite distinctive, making Dy-Dee dolls easy to spot and identify. Molded hair could still be found, but by the '40s some models had lamb's curly wool wigs.
Following Effanbee's success, other companies began producing their own versions of drink-and-wet dolls. Collectors recognize the names of Ideal's "Betsy Wetsy" and American Character's "Tiny Tears."
Meanwhile, Mr. Fleischaker and Mr. Baum expanded their drink-and-wet doll line until the Dy-Dee family had multiple members. Sizes and names differentiated the dolls. The 9-inch was "Dy-Dee-Wee" and the 11-inch "Dy-Dee-Ette." "Dy-Dee-Kin was 13 inches while "Dy-Dee-Baby" was 15 inches. Other names in the line were "Dy-Dee-Kins," "Dy-Dee-Jane," Dy-Dee-Louise" and "Dy-Dee-Ellen." The largest size produced was 20-inch "Dy-Dee-Lou."
Competition among manufacturers continued to bring changes. The Dy-Dee bodies were updated and made of longer lasting materials. The early rubber bodies are very hard to find; many of them melted or disintegrated over time. The very early heads have no markings, and collectors often don't recognize them. Other innovations include dolls that would cry when a pacifier was inserted in their mouths, and a bubble pipe in some of the special layette sets allowed blowing bubbles with the squeeze of a tummy.
Of all the drink-and-wet dolls, Dy-Dee had the most accessories available for separate purchase. There was clothing of all types. There was a deluxe bathinette featured in the 1946 Effanbee catalog. There was also a diaper can complete with clothesline, clothespins, and soap for dirty laundry.
As special as Dy-Dee dolls were, American Character's Tiny Tears became more popular during the 1950s. Although no longer the most sought-after drink-and-wet baby, Dy-Dee continued in the Effanbee line throughout the 1960s and into the 1970s.
In 1984, Effanbee honored the Dy-Dee doll with a 50th anniversary commemorative edition. Collectors could pick from two models, both made in vinyl and dressed in the famous Dy-Dee basic outfits. One version had the old caracul-type hair and the other's hair was molded. The limited editions were introduced during the summer and available until October 31st, 1984.
In 2002, Robert Tonner Doll Co. purchased Effanbee Doll Co. and has since produced some of the popular vintage dolls that made Effanbee one of America's longest success stories. Once again, there are Dy-Dee dolls on the market. "Dy-Dee Baby Holiday Sweetie" came in time for Christmas 2005 and a limited edition of 500 "Dy-Dee Babies" with layettes was available in 2006.
"Dy-Dee" has had many years of popularity amongst the little girls and now amongst the doll collectors! If you have one of these dolls in nice condition, you indeed have a treasure. They are so sought after that collectors will even purchase them in less than good condition. The above photos are of the only Dy-Dee doll presently in my collection.
I hope you have enjoyed the brief history of Effanbee's Dy-Dee Line. Until doing this research, I had no idea that there were so many of the dolls in the Dy-Dee line.
I hope to be back on schedule next month with getting the blog out….until then, enjoy this beautiful autumn season, stay well, and most of all be kind to one another!
Hugs,
Lynn
BabyBoomerDolls