Hello Friends!  Happy 2022 to you and yours!  I hope you had a wonderful holiday season.  I am glad you are here today to read the latest  post of the BabyBoomerDolls blog.  Today we are going to look at a doll that seems to have a mystery surrounding her.
I recently restored this Ashton-Drake Galleries TV Patti Playpal.  I have posted photos of her on my IG account which I will also post here.   Given her name (TV Patti) and the brief history provided on her, she has raised some questions.  I will try to give you more information on her in this post.  This lovely Patti Playpal is known as "TV Patti" because apparently Ideal never actually put her into production!  She was in the television ads but not produced for sale.  This seems to remain a mystery as to why…..
This doll pictured here was manufactured by Ashton-Drake Galleries and is known as TV Patti Playpal Doll.
This Patti stands over 35″ tall and is simply amazing in her detail.   She is a collectible vinyl doll.  She has a moveable head, shoulders, and hips.  Her eyes are a beautiful, vibrant  shade of blue and are sleep eyes.  She has long, brush lashes.     She has beautiful long blonde rooted hair and a soft porcelain looking complexion.  She originally was outfitted in a pink flowered dress which was a two piece dress and pinafore set.  The skirt of the dress had a half slip sewn into it.  The white pinafore is trimmed with red and green rickrack.  I will include photos of her original clothing.    She wears black Mary Jane type shoes.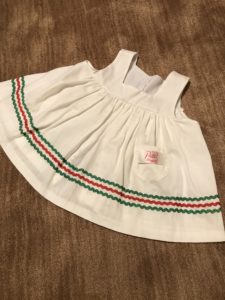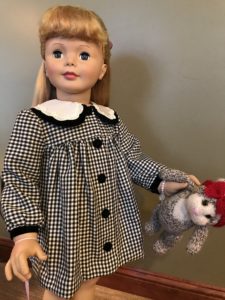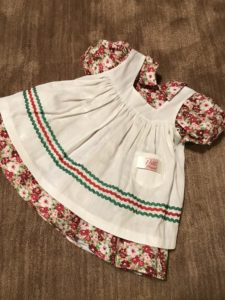 This beautiful doll is a reproduction of the classic Patti originally manufactured by Ideal.  However, the doll pictured here  was manufactured by Ashton-Drake Galleries.  She is marked on the back of her neck A.D.G. 06.  In the 2000s Ashton-Drake Galleries and Danbury Mint briefly revived the production of the Playpal dolls.
Her COA reads:  upon the retirement of this issue, no more of this edition of  TV Patti Playpal will ever be produced.  Once the edition is retired, it will never be reopened.  She is truly a collectible!  She is now  one of those HTF dolls.  I did some research and there are a few still out there to be purchased.
While I always keep a doll's original clothing, I don't always leave them in it forever…which is the case here.  When I restored her, I put her hair back into the original style.  I chose to redress her and give her a little more personality rather than the ADG personality she came with….
There are vintage television ads on the internet that feature a doll that looks quite similar to this ADG doll.  There is not a lot of information on this doll to be found.  I hope what little I could find will be of interest to you.
Until we can be together again to "Talk Dolls", stay well and be kind to one another.
Hugs to all,
Lynn
BabyBoomerDolls