Yes, I am a Howdy Doody lover!!  I have been since I was a child.  My mother never misses an opportunity to share a story where she says I could be having a red headed fit (that's her affectionate term for it), and I could hear the Howdy Doody program coming on the television and I would automatically shut down the "fit" and be all smiles.  I, personally, believe there is some exaggeration to her story, and it seems to become more graphic with every time she retells it, but she enjoys sharing her version if nothing more than to embarrass me.  LOL!
So let's get started with the brief history of the iconic Howdy Doody.  Howdy Doody is an American children's television program that was telecast on the NBC network in the United States from December 27, 1947, until September 24, 1960.  It was a pioneer in children's television programming and set the pattern for many similar shows.  The show was also a pioneer in early color production as NBC (at that time owned by TV maker RCA) used the show in part to sell color television sets in the 1950s.  How's that for marketing? What child wouldn't want to see Howdy Doody in living color??
Buffalo Bob Smith created Howdy Doody during his days as a radio announcer on WNBC.  At that time Howdy Doody was only a voice Smith performed on the radio.  When Smith made an appearance on NBC's television program Puppet Playhouse on December 27, 1947, the reception for the character was great enough to begin a demand for a visual character for television.  A puppeteer for the show was asked to create a Howdy Doody puppet.
To cut right to the chase, Howdy Doody was the all American boy, with his red hair, his Alfred E. Newman-like grin, and his forty-eight freckles (one for each state in the Union at the time of his creation), and his ears that seemingly stuck out the sides of his head far beyond normal.   All these things made him  just right for merchandising.  Soon there were Howdy Doody hand puppets, storybooks, coloring books, puzzles, craft sets, lampshades, dishes, masks, umbrellas, pail-and-shovel beach sets, bubblebaths, ukuleles, windup toys, shoe polish, and naturally DOLLS.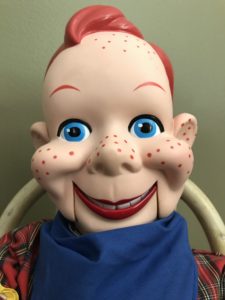 Almost as soon as Howdy Doody hit the airwaves, two companies nailed down licenses to manufacture Howdy Doodys.  The Ideal Toy Corporation and the Effanbee Doll Company produced a variety of Howdy Doodys.  The early dolls had composition heads and cloth bodies.  A feature of some of the dolls was a string at the back of the neck, which, when pulled would open and close Howdy Doody's mouth.  Later, Howdy had a plastic head, blue or brown eyes that opened and closed, molded red or brown hair, a big nose, and stick out ears.  Both companies dressed Howdy Doody in pretty much the same outfit – dungarees, a long-sleeved plaid shirt, plastic cowboy boots, and a bandanna with his name on it, just in case the child did not recognize that famous face.
The Howdy Doody Show ran in various time slots from 1947 until its final broadcast in September 1960.  The show continued as reruns until the early 1970s.  Many of the 1949-54 episodes were released on DVD. Howdy Doody has been teaching/entertaining children of all ages for decades now.  There is still vintage Howdy Doody merchandise to be collected while there is still nostalgic merchandise being manufactured.  Howdy Doody is a part of American Children's Television History.
Howdy Doody is definitely a part of my doll-loving history.  I have an original composition head doll of Howdy that belonged to my Aunt, which I treasure.   When I was a child, he "lived" in my Granny's window seat and occasionally made an appearance.  I was allowed to touch him, but never to play with him.  He is now in my custody and resides happily with all the other dolls.   I also have a Madame Alexander marionette of Howdy as well as Christmas ornaments, etc.  Seems as though Howdy Doody has always been a favorite for me.  I have always believed it to be because of his red hair and freckles (just like mine).
That, my doll friends, is a BRIEF story of Howdy Doody and his history.  There is so much more, but I will leave that for you to discover.  I hope to see you all back here in August!
"Let's Talk Dolls" again soon!
Hugs and be well,
Lynn
BabyBoomerDolls