Hello, Friends! We are here with Patti Playpal with some very enlightening information for you today. So…."Let's Talk Dolls"….
LYNN: Patti, you have given us so much information on the Playpal Family. We have learned so many facts and tidbits that many of us had absolutely no idea about. Could you give us some quick facts now that readers might not be aware of?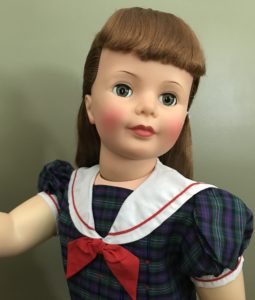 PATTI: Oh, I'd be happy to!
*Most collectors will agree that the 1959 Pattis were non walkers with swivel wrists, and that the 1960 Pattis were walkers with stationary wrists.
*"Generic" outfits sold in the Sears catalog for Playpal size dolls for between $3 and $4.
*There are many SALLY STARR outfits floating around out there and are coveted by collectors. This outfit was not made by Ideal, but was made especially for Playpal dolls. Sally Starr was a 1960s TV cowgirl. The hat and boots were not originally included with the outfit.
LYNN: Those are some very interesting facts. Speaking of facts, let's talk about your Playpal family a bit. Let's begin with Peter. I know that Peter has a charm about him that makes him very collectible in today's collector's market. He is the most expensive in today's market. So, Patti, what information could you share from there?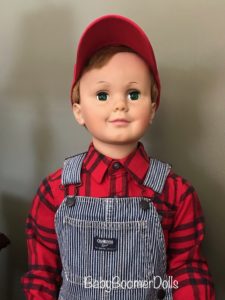 PATTI: Peter was made in 1960 and 1961. He is 38″ tall making him about the size of a 4 year old child. But did you know that a rare 36″ size was made? The rare 36″ Peter was a "salesman" doll that came about as a result of the Playpal traveling salesmen complaining that the original 38″ versions were too tall to fit in the trunks of their cars. As the story goes, Ideal shrunk these salesmen demo dolls down by 2″. These shorter Peter Playpal versions are too rare to even come up with a value on!
In addition to being difficult to find, Peters are especially special in the fact that boy dolls, in general, are hard to find. Peter dolls are marked c Ideal Toy Corp / BE – 35 – 38 (on head) and c Ideal Toy Corp / W – 38 / Pat Pend (on body).
To my knowledge, all Peters were made to be walkers. Some, over the course of all these years, may have loosened up or been poorly restrung and no longer appear to be walkers.
Peter's original hair colors were: sandy blonde, auburn, brown, and brown-black (rare).
His original eye colors were: hazel (brownish green), light green, gold or golden brown.
LYNN: Wow! All that information is more than valuable to the collectors of today. What information can you share with us about Penny Playpal?
PATTI: Penny was made for only one year, 1959. She is 32″ tall and is the size of a 2 year old child. She has a soft, rounded face that can cause anyone who sees her to love her. She is marked "Ideal Doll / 32 – E – L" or "B-32 Pat. Pend." (on her head) and "Ideal" in an oval on her back.
Original hair colors for Penny were: sandy blonde, auburn, brown, dark brown/black.
Penny's original eyes colors were: blue, green, and brown.
LYNN: This information is good to have when contemplating making a Playpal purchase to ensure that you are getting a genuine Playpal. What about Suzy?
PATTI: Suzy is an angelic babydoll in every sense of the words. She is the size of a 1 year old child at 28″ tall. In the ads of the era, her name was spelled both Suzy and Suzie. She is noted for the detail on her chubby arms and legs.
She came in both straight and curly hair with the curly hair being the most common. Suzys are marked "Ideal Doll / O.E.B. – 28 – 55" or Ideal OB-28 (on her head) and "Ideal Toy Corp B 28" or "Ideal" in an oval on the back.
Suzy had original hair colors of sandy blonde, light brown, auburn (rare), brown/black (rare). Suzy's hair was tightly curled. A rare version had straight hair in a pixie cut.
Suzy's original eye colors were blue, brown, and green.
LYNN: How about a quick rundown on the twins Bonnie and Johnny Playpal….what can you tell us about them? They have been on my 'wish list' for quite some time now. Since babyboomerdolls.net uses only our own photos, I guess we will have to wait a little longer for pictures of The Twins. (giggle…)
PATTI: These two are exceptionally difficult to find, with Johnny being the harder of the two. Bonnie has rooted hair and Johnny is the only Playpal doll with painted hair. They are 24″ long making them the size of 3 month old babies. They are marked as follows:
Bonnie – Ideal Doll / OEB – 24 – 3 (on her head), Ideal (in oval)23 on her body.
Johnny – Ideal Doll / BB – 24 – 3 (on his head) and Ideal (in the oval) on his body.
Hair colors were: Bonnie – blonde, dark brown, & auburn
Johnny – Painted on brown hair
Eye colors were: Bonnie – blue and green
Johnny – blue
Bonnie's original outfit was a blue and white checked dress, and Johnny's original outfit was a purple and white checked smock.
Bonnie is very frequently confused with the Dryper babies. Look for a nurser mouth to identify a Dryper baby. Bonnie's mouth is open/closed, but is not a nurser mouth. Dryper babies are adorable, but do not command Bonnie Playpal prices. Below is a picture of a Dryper baby during her day at the spa. Notice her nurser type mouth.
LYNN: Patti, I am so pleased that you have been with us today to give us all these valuable facts! Our next (and final) interview with Patti will hit the highlights of the Shirley Temple dolls, advertising, companion dolls, and a few other large dolls of the era. You won't want to miss it!
Please join us again. If you like, leave your comment below as we would love to hear from you. Stay well and see you soon!
Let's Talk Dolls,
Lynn
and our guest, Patti Playpal